Brian Isard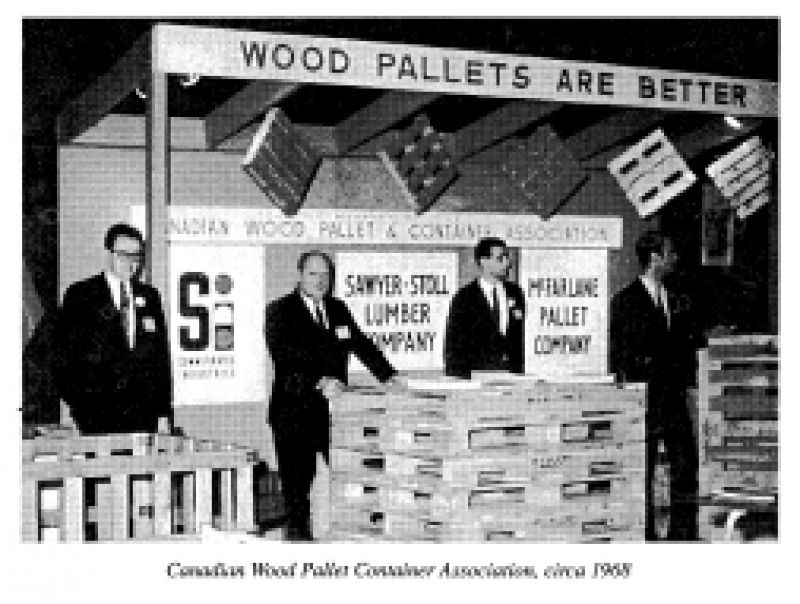 Associations in existence today had their start when a group of like-minded people came together and said to themselves "we need an association". The decisions by those early founders to work on common goals and interests have a significant impact on whether the association will survive into the future and how effective it will be in advocating on behalf of its members.
Have you ever wondered to yourself who were the early founders of our Association and what were their hopes and aspirations for the Canadian Wood Pallet & Container Association in those early years? Last month I had the good fortune to meet one of the Founding Directors of our Association when it was started in 1967, who went on to act as Secretary Treasurer, as well as the first Executive Manager and served on the Board of Directors until 1971.
Let me introduce you to Douglas Summerhayes CM, HRF. Doug is a spry 84 years and he is quick to tell you about the other directors who were there at the start: Maple Nelson, Stephen Lett , George Beck, Monty Innes, Armin Pagenkopf, Gilbert Chasse, Gerrard Pelland , Fredrick Beck, Robert McDerment, Anthony Hendrie and Willhelmina Aikman. These gentlemen and ladies are a good representation of manufacturers from both the pallet and the crate/container manufacturing sectors from across Canada.
Doug got his start in business in Brantford, working in his father's lumber business and moved into the custom wood packaging business in 1954, and later in 1964 when he started Summerhayes Industrial & Wood Products Ltd. His early customers were local manufacturers such as Hussman Refrigerator Ltd. and Gates Rubber Ltd. His early suppliers were Wray Wigley Lumber Ltd. of Temagami, and HR MacMillan Ltd., using mostly softwood and plywood for his manufactured products.
The leap into the big leagues of the wood packaging industry came in 1964 when Studebaker USA consolidated their North American automobile manufacturing operations in Hamilton, Ontario. Doug beat out the dominant player in the industry, Livingston Industries Ltd. of Tillsonburg, to win the export packaging outsourcing contract for overseas automotive parts shipments. Doug's business of building Complete Knock Down (CKD) units ended up employing 125 employees, of which 40% were female, until Studebaker closed its manufacturing operations in the late sixties.
He also manufactured and exported to the United States a laminated specialized insulated panel component, exported to the J.W.Greer Company, which manufactured machinery for companies that produced chocolate products in Wilmington, Massachusetts.
In 1967, the federal government had an idea for a consortium to sell pallets and containers to the US and recruited Doug to call Canadian manufacturers together for a meeting in Brantford. By the end of the day it was clear that the idea of a consortium would not work but after three to four hours together comparing notes the attendees decided it would be worthwhile to form an association. Doug was elected as the first Executive Manager (unpaid, of course) because he had experience in organizing national associations. Having already founded the Canadian Cystic Fibrosis foundation in 1962, he knew how to build a network of interested parties across Canada.
The first General Meeting was held in Ottawa and the Guest Speaker was Bill Sardo from the NWPCA in the US. The meeting also featured several seminars & workshops and was considered to be a great success. Members that attended came away with a good understanding of where the problems were in the industry and what needed to done to fix them.
The focus of the first meeting was to identify ways to support the general wellbeing of the industry and promote the packaging industry to the members' industrial customers. They held a number of workshops on how to improve manufacturing, process quality, and pallet standards. This group was instrumental in building a relationship with the Grocery Products Manufacturing Council and began the design of what we came to be known as the Canadian Pallet Council (CPC) pallet, characterized by its full 8-1/4 " deck and stringer design.
The CWPCA was founded by a group of business men and women who sought strength in numbers while making sure that they represented all members of the constituency the new association would serve.
To get something like this off the ground they needed broad support and unless everyone felt that they had fair representation among the decision-makers it would have been unlikely the association would have been able to move forward.
The early founders had leaders with the ability to make a commitment in both time and funding to support the Association. They were able to articulate a sense of purpose and they had a sense of urgency that served as a rallying point for potential members.
Doug has some interesting perspectives on the pallet and crate/container manufacturing industry and the merits of having a strong association to represent member's interests.
We have invited Doug to address our Annual General Meeting on April 28th in Niagara Falls and ask members to help us set out our strategic initiatives for the next five years.
We will see you there.